Home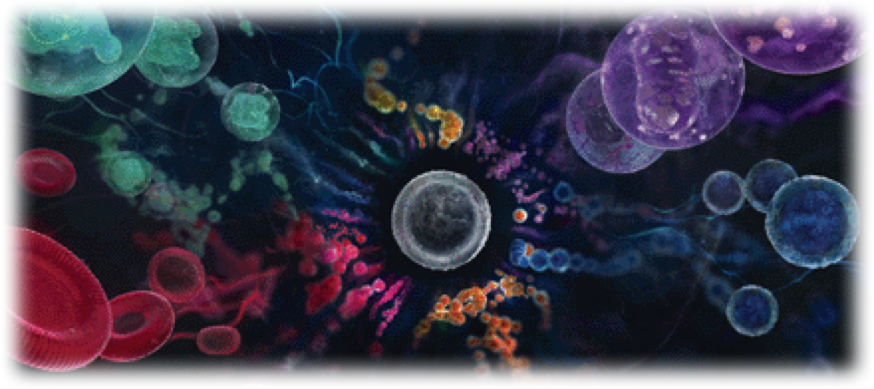 Hematopoietic stem cells are responsible for the lifelong regeneration of blood and immune cells. The various blood and immune cells orchestrate a wide range of functions: immune response against viral and bacterial pathogens, prevention of cancer initiation, oxygen supply to organs and coordination of wound healing. If this sensitive system is imbalanced by an over- or underproduction of specific blood or immune cells, diseases, such as bleeding disorders, autoimmune diseases and cancer, can develop. Therefore, understanding the molecular and functional properties of hematopoietic stem cells and the molecular mechanisms that regulate blood formation are of crucial importance and will eventually help to develop novel strategies to prevent or cure blood and immune-related diseases.
Our lab explores how intrinsic and extrinsic cues impact on stem cell fate that determine the fine balance between mature cell types. Next to investigating normal blood formation, we also investigate stem cell fate decisions during immune responses and upon transformation of healthy to cancer (leukemic) stem cells. In this context, our main research goals are:
§ Characterizing the molecular basis of stem cell lineage commitment
§ Deciphering the molecular and functional heterogeneity of blood stem cells
§ Elucidating the bidirectional interaction of blood stem cells with the immune system
§ Characterizing the molecular basis that leads to the transformation of healthy to cancer stem cells during leukemogenesis
Moreover, our lab has a strong interest in the development of novel approaches to investigate stem cell lineage commitment and to dissect tissue heterogeneity. These include single-cell ex vivo and single-cell in vivo functional assays, as well single-cell transcriptomic and genomic approaches (in collaboration with L. Steinmetzand L. Velten) in combination with advanced mouse models and primary human samples.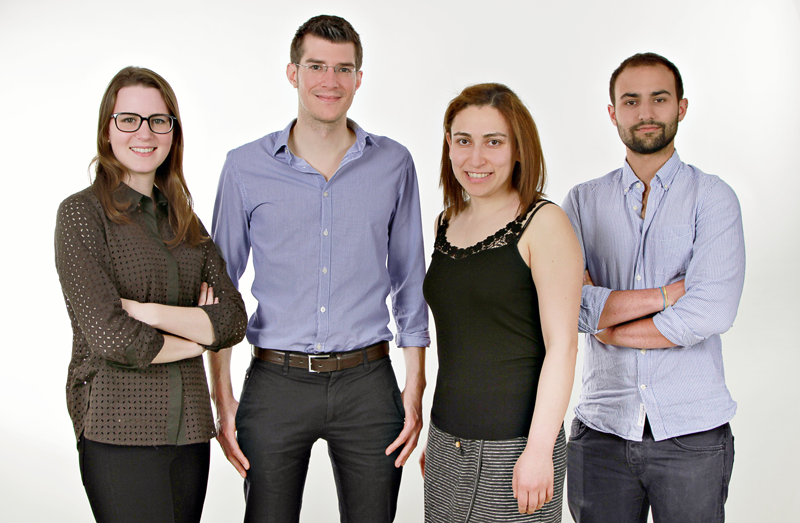 Our work is based on a multidisciplinary and collaborative environment. Find our main collaboration partners here collaboration partners
Selected Publications
Find a full list of publications here
Brocks D, Schmidt C, Daskalakis M, Li D, Li J, Jang HS, Zhang B, Laudato S, Lipka D, Schott J, Bierhoff H, Assenov Y,Helf M, Ressnerova A, Islam MS, Lindroth AM, Haas S, Essers M, Imbusch CD, Brors B, Oehme I, Witt O, Lübbert M, Mallm J, Rippe K, Will R, Weichenhan D, Stoecklin G, Gerhäuser C, Oakes CC, Wang T, Plass C. DNMT and HDAC inhibitors globally induce cryptic TSSs encoded in long terminal repeats. Nature Genetics. 2017 Jul;49(7):1052-1060
Hirche C*, Frenz T*, Haas S*, DöringM, Borst K, Tegtmeyer P,Brizic I, Jordan S, Keyser K, Pronk E, Lin S, Messerle M, JonjicS, Falk C, TrumppA, EssersMAG, Kalinke U. Virus infections differentially modulate cell cycle state and functionality of long-term hematopoietic stem cells in vivo. Cell Reports. 2017 Jun 13;19(11):2345-2356. * Shared first author
Velten L*, Haas S*, Raffel S*, Blaszkiewicz S, Islam S, Hennig BP, Hirche C, Lutz C, Buss EC, NowakD, BochT, Wolf-HofmannK, HoD, HuberW, TrumppA, EssersMAG, SteinmetzLM. Humanhaematopoieticstemcelllineagecommitmentisacontinuousprocess. NatureCellBiology. 2017 Apr;19(4):271-281. * Shared first author. Cover Story
Scognamiglio R, Cabezas-Wallscheid N, Thier MC, Altamura S, Reyes A, Prendergast ÁM, Baumgärtner D, Carnevalli LS, Atzberger A, Haas S, von Paleske L, Boroviak T, Wörsdörfer P, Essers MA, Kloz U, Eisenman RN, Edenhofer F, Bertone P, Huber W, van der Hoeven F, Smith A, Trumpp A. Myc Depletion Induces a Pluripotent Dormant State Mimicking Diapause. Cell. 2016 Feb 11;164(4):668-80. Cover Story
Paul F, Arkin Y, Giladi A, Jaitin DA, Kenigsberg E, Keren-Shaul H, Winter D, Lara-Astiaso D, Gury M, Weiner A, David E, Cohen N, Lauridsen FK, Haas S, Schlitzer A, Mildner A, Ginhoux F, Jung S, Trumpp A, Porse BT, Tanay A, Amit I. Transcriptional Heterogeneity and Lineage Commitment in Myeloid Progenitors. Cell. 2015 Dec 17;163(7):1663-77.
Haas S, Hansson J, Klimmeck D, Loeffler D, Velten L, Uckelmann H, Wurzer S, Prendergast ÁM, Schnell A, Hexel K, Santarella-Mellwig R, Blaszkiewicz S, Kuck A, Geiger H, Milsom MD, Steinmetz LM, Schroeder T, Trumpp A, Krijgsveld J, Essers MA. Inflammation-Induced Emergency Megakaryopoiesis Driven by Hematopoietic Stem Cell-like Megakaryocyte Progenitors. Cell Stem Cell. 2015 Oct 1;17(4):422-34.
Cabezas-Wallscheid N, Klimmeck D, Hansson J, Lipka DB, Reyes A, Wang Q, Weichenhan D, Lier A, von Paleske L, Renders S, Wünsche P, Zeisberger P, Brocks D, Gu L, Herrmann C, Haas S, Essers MA, Brors B, Eils R, Huber W, Milsom MD, Plass C, Krijgsveld J, Trumpp A. Identification of regulatory networks in HSCs and their immediate progeny via integrated proteome, transcriptome, and DNA methylome analysis. Cell Stem Cell. 2014 Oct 2;15(4):507-22. Cover Story
Klattenhoff CA, Scheuermann JC, Surface LE, Bradley RK, Fields PA, Steinhauser ML, Ding H, Butty VL, Torrey L, Haas S, Abo R, Tabebordbar M, Lee RT, Burge CB, Boyer LA. Braveheart, a long noncoding RNA required for cardiovascular lineage commitment. Cell. 2013 Jan 31;152(3):570-83.