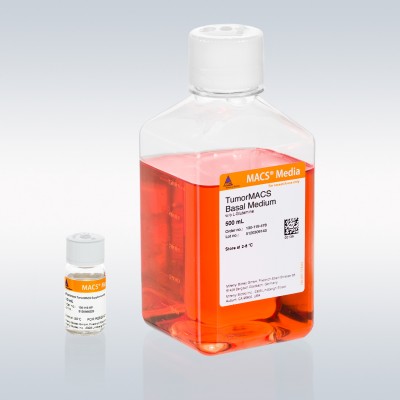 Based on an ongoing collaboration between HI-STEM and the German Biotech Company Miltenyi Biotec GmbH, our cell-culture medium for tumor cells from the pancreas is now available for sale at Miltenyi. The medium is an improved version of the one described in our Nature Medicine Paper (Noll et. al., Nature Medicine 2016) and allows the reliable expansion of tumor cells from primary or xenotransplanted human pancreatic tumor samples.
For more information visit the product page at Miltenyi, have a look at their application page or download the flyer.
We at HI-STEM are glad that our methods are now accessible for more researchers with the advantage of a quality controlled medium production.
Further Information:
Pancreas TumorMACS Medium at Miltenyi
Read our news article on the publication from 2016: Mechanism of therapy resistance in pancreatic cancer uncovered
Read the paper: Noll, E.M., Eisen, C., Stenzinger, A., Espinet, E., Muckenhuber, A., Klein, C., Vogel, V., Klaus, B., Nadler, W., Rosli, C., Lutz, C., Kulke, M., Engelhardt, J., Zickgraf, F.M., Espinosa, O., Schlesner, M., Jiang, X.Q., Kopp-Schneider, A., Neuhaus, P., Bahra, M., Sinn, B.V., Eils, R., Giese, N.A., Hackert, T., Strobel, O., Werner, J., Buchler, M.W., Weichert, W., Trumpp, A., & Sprick, M.R. (2016). CYP3A5 mediates basal and acquired therapy resistance in different subtypes of pancreatic ductal adenocarcinoma. Nature Medicine, 22(3), 278-287. doi: 1038/nm.4038