In the new paper published online at nature.com on November 8, we describe how high levels of the BCAT1 enzyme in leukemia stem can lead to DNA hypermethylation and detrimental effects in cancer cells. The work, which is based on a close cooperation with group of Bernhard Radlwimmer also at the DKFZ, opens up new options for therapy via a blockade of BCAT1. Within HI-STEM, the PhD Students Simon Raffel and Mattia Falcone are together with Niclas Kneisel from the Radlwimmer team the first authors of this study.
Further Reading:
·         Read the paper online at Nature.com:
Raffel, S., Falcone, M., Kneisel, N., Hansson, J., Wang, W., Lutz, C., Bullinger, L., Poschet, G., Nonnenmacher, Y., Barnert, A., Bahr, C., Zeisberger, P., Przybylla, A., Sohn, M., Tönjes, M., Erez, A., Adler, L., Jensen, P., Scholl, C., Fröhling, S., Cocciardi, S., Wuchter, P., Thiede, C., Flörcken, A., Westermann, J., Ehninger, G., Lichter, P., Hiller, K., Hell, R., Herrmann, C., Ho, A.D., Krijgsveld, J., Radlwimmer, B., & Trumpp, A. (2017). BCAT1 restrictsαKG levels in AML stem cells leading to IDHmut-like DNA hypermethylation. Nature, advance online publication. doi: 10.1038/nature24294
·         DKFZ Press Release (English/ Deutsch)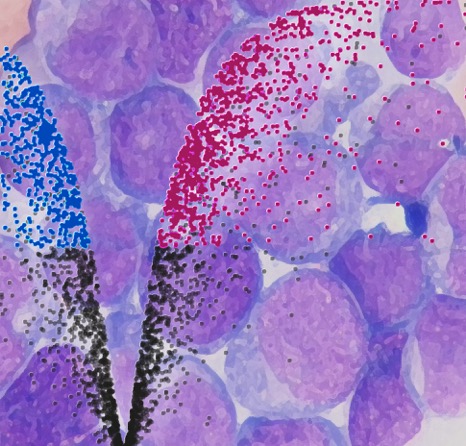 Blood cancer is initiated by leukemic stem cells characterized by a specific protein expression pattern.