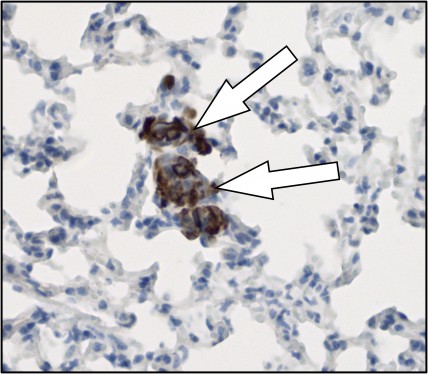 Metastatic breast cancer cells abuse macrophages, a type of immune cell, to promote the settlement of cancer metastases in the lungs. The reprogrammed macrophages stimulate blood vessel cells to secrete a cocktail of metastasis-promoting proteins that are part of the so-called metastatic niche. This was demonstrated by the group of Thordur Oskarsson in mice that had been transplanted with human breast cancer cells. The work enabled the scientists to identify new targets and develop initial concepts to better restrain the metastatic spread of breast cancer.
Further Reading:
https://www.dkfz.de/en/presse/pressemitteilungen/2022/dkfz-pm-22-25-Reprogrammed-macrophages-promote-spread-of-breast-cancer.php
Publication: Hongu T, Pein M, Insua-Rodríguez J, Gutjahr E, Mattavelli G, Meier J, Decker K, Descot A, Bozza M, Harbottle R, Trumpp A, Sinn HP, Riedel A, Oskarsson T. Perivascular tenascin C triggers sequential activation of macrophages and endothelial cells to generate a pro-metastatic vascular niche in the lungs. Nat Cancer. 2022 Apr 25. doi: 10.1038/s43018-022-00353-6. Epub ahead of print. PMID: 35469015.
Links and further information
Pubmed
|
Read at Publisher