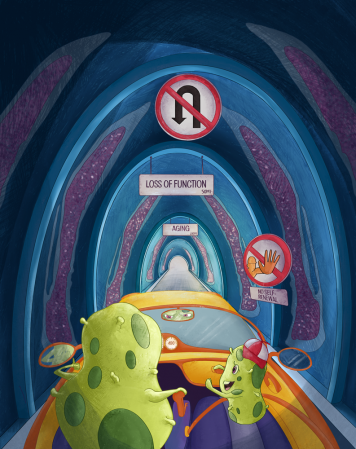 Inflammation and infection acutely suppress HSC function however, the long-term ramifications of such challenges are unclear. In this study HI-STEM researchers demonstrate that murine HSCs fail to recover functional potency up to 1 year post inflammatory/infection challenge, meaning that such events can have accumulative effect over a lifetime∞ this promotes acquisition of the aged state.
The artwork depicts bacteria, representative of infection and inflammation, driving the process of hematopoietic stem cell aging. The signage conveys several key points from the manuscript: namely that hematopoietic stem cells progressively and irreversibly lose their functionality as a result of infection/inflammatory challenge; that self-renewal is absent or extremely rare, both during and after such challenge; and that this ultimately acts to accelerate stem cells towards the destination of old age. The tunnel walls illustrate the progressive shift of the bone marrow from being densely packed with hematopoietic cells, to the adipocyte-dominated white marrow characteristic of aging in humans. Artwork generated by DrawImpacts (www.drawimpacts.com).
Ruzhica Bogeska, Ana-Matea Mikecin, Paul Kaschutnig, Malak Fawaz, Marleen Büchler-Schäff, Duy Le, Miguel Ganuza, Angelika Vollmer, Stella V. Paffenholz, Noboru Asada, Esther Rodriguez-Correa, Felix Frauhammer, Florian Buettner, Melanie Ball, Julia Knoch, Sina Stäble, Dagmar Walter, Amelie Petri, Martha J. Carreño-Gonzalez, Vinona Wagner, Benedikt Brors, Simon Haas, Daniel B. Lipka, Marieke A.G. Essers, Vivienn Weru, Tim Holland-Letz, Jan-Philipp Mallm, Karsten Rippe, Stephan Krämer, Matthias Schlesner, Shannon McKinney Freeman, Maria Carolina Florian, Katherine Y. King, Paul S. Frenette, Michael A. Rieger, Michael D. Milsom.
Inflammatory exposure drives long-lived impairment of hematopoietic stem cell self-renewal activity and accelerated aging, Cell Stem Cell. 2022 Jul 12:S1934-5909(22)00261-2. doi: 10.1016/j.stem.2022.06.012.
Free access: https://authors.elsevier.com/a/1fRPY6tu0CiH2q
Links and further information
Pubmed
|
Read at Publisher